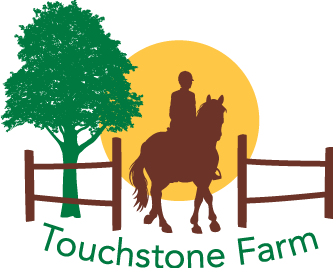 Nashua, N.H. – In lieu of sending holiday greeting cards to clients this year, Sue Berube, Vice President of Eaton & Berube Insurance Agency in Nashua, announced today that the agency will donate those funds to Touchstone Farm.
Since 1989, Touchstone Farm has been operating on its mission to positively change lives through partnerships between horses and people of varying abilities, ages, and backgrounds. Touchstone Farm warmly welcomes more than 4,000 people annually through the farm gates, offering a variety of evidence-based equine programs for therapeutic riding and driving.  The organization serves children, adults, and veterans challenged with a diverse array of disorders including autism, downs syndrome, cerebral palsy, PTSD, TBI, and loss of limb. Most recently, the Farm has begun offering a group program for children struggling with the loss of a parent due to the opioid epidemic and other traumatic events such as sexual abuse, violence, and the terminal illness of a parent.
"We greatly value our long-standing relationship with Touchstone Farm and have experienced first-hand the lifelong impact the organization's programs have on children, such as the Pony Farm Summer Camp," Berube said. "We are pleased to give back to a deserving charity this holiday season, and we encourage other local businesses and individuals to do the same."
"We are honored by the unwavering support from Eaton and Berube over the years," said Interim Executive Director Kris Young. "Their commitment to our mission to 'Positively Changes Lives' ensures the healing power of the horses can carry on."
For additional information about Touchstone Farm, call 603-654-6308, or go to: www.touchstone-farm.org. Tax deductible contributions may be made online or sent to: Touchstone Farm, 13 Pony Farm Lane, Temple, N.H. 03084.
Eaton & Berube Insurance, a local, family-owned independent insurance agency, has been serving New Hampshire communities for more than 75 years, providing a comprehensive line of both personal and commercial insurance products, including home, auto, liability, workers' compensation, health, life, and equine insurance. For additional information, call 603-882-2766 or go to: www.eatonberube.com.