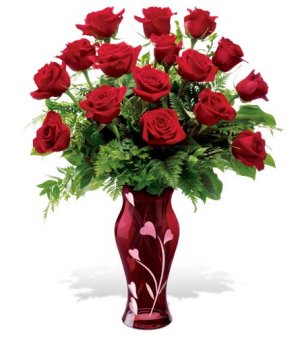 Red Roses & Life Insurance – Give the Gift of Life Insurance This Valentine's Day
February is the month we associate with Valentine's Roses, heart-shaped candy and romantic dinners, but would a loving husband (or wife) give the gift of life insurance instead? It may be a risky gift idea that carries the possibility of a night on the couch, but it could also communicate your genuine care for your spouse.
According to LIMRA's 2010 Life Insurance Ownership Study, 30 percent of U.S. households lack life insurance protection. Although many Americans agree with the importance of life insurance, we have hit a 50-year low in life insurance ownership.
This gift of life insurance from the primary wage-earner is what matters most, by offering financial security to others in the event that an unexpected death occurs, LIMRA reports. Need a few more reasons why investing in life insurance is smarter than roses or dining out? Here are few others LIMRA highlights:
Income protection – Life insurance provides a death benefit and can be used to pay for an insured family's current and future financial expenses, or to cover the cost of the insured's final expenses.
It's affordable coverage! Term life insurance rates are at historic lows. In fact, a healthy 40-year-old male can get a $500,000 10-year level term life policy for less than $21 per month.
Living on the edge could end up causing your loved ones to suffer.
A majority of the Baby Boomer households (60%) prefer to buy life insurance face-to-face from insurance agents, while the younger generations prefer gathering information about life insurance online and at their place of work. Selecting the right life insurance policy is a crucial financial planning tool. At Eaton and Berube we offer advice on New Hampshire life insurance and financial planning. For more information on how our team can help, contact us at (800) 660-5362, or visit us on Facebook and Twitter.
To get a free life insurance quote, please fill out and submit our Online Insurance Quote Request Form.