In light of the recent natural disasters, from Hurricane Irene to the 5.8 magnitude earthquake in Virginia that we felt here in New Hampshire, many people are seeking information on disaster preparedness and natural disaster insurance, so now is the perfect time to talk to your insurance agent to understand the risks you face and determine whether flood and/or earthquake insurance is right for you.
In terms of natural disaster insurance, it's important to understand that insurance companies will not allow you to lower deductibles, increase limits or add coverage on your existing policies when a severe storm warning has been issued, or when the aftershock of an earthquake remains a threat. Your insurance agent does not have the authority to issue new policies or increase coverage limits under these circumstances, so it's best to have proper coverage in place before a natural disaster threatens your area.
Planning ahead may be the best form of protection against natural disasters, yet many Americans have not done so, Independent Agent magazine reports. In fact, according to a Trusted Choice and Big "I" national survey that was conducted last year, only 35% of respondents had discussed their complete disaster preparedness plan with their insurance agent.
Not only have the majority of Americans neglected to review their disaster plans with their insurance agents, but also they have declined the natural disaster insurance coverage that will protect their homes and assets in the event that a hurricane or earthquake impacts their area.
Earthquake Insurance
About 5,000 earthquakes occur in the United States each year, yet many homeowners choose not to purchase earthquake insurance. Although we tend to perceive earthquakes as disasters that only impact states like California, quakes of varying magnitudes have occurred in 39 states with damage being recorded in all 50 states since 1900, the Insurance Journal reports. Surprisingly enough, even in California, only 12 percent of homeowners have earthquake insurance coverage.
Earthquake Insurance Cost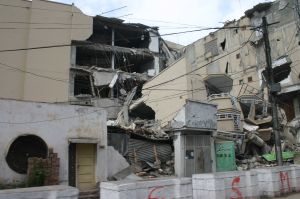 So why are so many homeowners declining earthquake insurance coverage? Is it the cost?
The cost of earthquake insurance actually varies, depending on location as well as the type and age of the insured building. A recently built wood-frame home will likely withstand an earthquake better and therefore will cost less to insure than an old brick home. While a brick house in the Pacific Northwest may cost $3 to $15 per $1,000, you may be able to insure a wood-frame home on the East Coast for less than 50 cents per $1,000, for example.
Like other types of coverage, earthquake insurance also carries a deductible, meaning that the homeowner must finance a portion of the damages before the insurance policy pays for the rest. While these deductibles range from about 2 to 20 percent of the replacement value of the building, earthquake prone states like California, Washington, and Nevada, incur the highest deductibles. If a home in a less vulnerable state like New Hampshire cost $200,000 to rebuild, the homeowner would only be responsible for the first $4,000 if the policy carried a 2 percent deductible.
Flood Insurance
Another type of natural disaster insurance you can purchase to protect against disasters like hurricanes is flood insurance. Similar to earthquakes, you may believe that floods only affect people living or working in coastal locations. However, the National Flood Insurance Program (NFIP) reports that floods occur in all 50 states, with 31 percent of damaged properties located outside of the special flood hazard areas designated by FEMA. Behind fire, floods represent the second most common cause of property damage, NFIP reports.
Contrary to popular belief, flood insurance is widely available, not just to properties located in these flood hazard areas or zones. It's important to remember, however, that flood insurance coverage is separate from your home or business insurance policy and is subject to its own terms, like a 30-day waiting period from the date you purchase flood insurance to the date that the policy takes effect.
Flood Insurance Cost
Considering that a flood can damage both your home and its contents, flood insurance typically carries two separate deductibles. For example, if a flood causes $70,000 to your home and $15,000 to your belongings and your policy carries a $1,000 deductible, you may be required to pay a total of $2,000. While the first $1,000 will apply toward the recovery of your home, the second deductible will cover the recovery of your contents.
Compared to the tens or even hundreds of thousands of dollars worth of damage that natural disasters can cause, the cost of earthquake and flood insurance is slight. Although the possibility of an earthquake or a hurricane hitting your area may seem slim, this summer has proven that it is not impossible. Now is the perfect time, before another natural disaster threatens your area, to review your coverage with your insurance agent and determine whether purchasing earthquake or flood insurance is right for you.
Request a Free Flood or Earthquake Insurance Quote: Online Insurance Quote Request Form