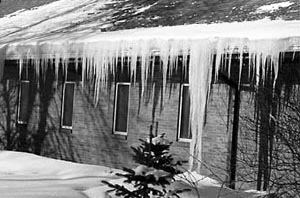 Living in New England, we are accustomed to unpredictable winters, from snow storms one day, to warm rains the next, to freezing there after. If you live in a cold, snowy region like New Hampshire, you may already be aware of the damaging effects of ice dams. Ice dams result from roof edges and gutters clogging up with ice, which causes water runoff from the roof to get trapped by the dam, eventually backing up the roof, traveling under the shingles, and leaking into the house. Ice dams can cause unpredictable damage, with some homeowners unable to perceive damage to the roof, yet others able to notice extensive effects. Water leaking into the home can harm the entire building, and its ceilings, walls, and flooring. Personal property like computers, TVs and furniture can be permanently damaged by the leaking water as well.
There are ways to prevent ice dams from forming on your roof, but if the damage has already occurred, the next question you should ask is: "Will my homeowner's insurance cover it?" With most homeowner's policies, the answer is "yes."  However, policies vary, from deductibles to coverage for buildings and personal property. So, as you start the clean up process, be sure to call your independent insurance agent to open a claim and review your specific coverage.
After repairing the damage, it never hurts to be more preventive in the future by increasing the insulation, sealing, and ventilation in your attic, or shoveling the snow off of your roof's edge to prevent snow loads.  Many professionals offer this service, just make sure they are properly insured with liability and workers' compensation coverage before letting them work on your property. The best idea is to avoid ice dams altogether, but it's crucial to ensure that your insurance policy has the coverage you need in case of any unpreventable damage.
To request a free insurance quote, please fill out and submit our Online Insurance Quote Request Form.