The holiday season is filled with fun, family, friends, and food, but there's one "f" that can ruin this special time of year – fire. Although decorating adds to the beauty of the holidays, it can also create fire hazards in your home or office. In fact, there are approximately 2,600 people injured from accidental fires during the holiday season each year. Use the following 20 holiday safety tips to ensure that your festivities remain fire-free.
Christmas Tree Safety
If you celebrate Christmas with a live tree, it's best to cut a 1- or 2-inch diagonal off the bottom of the trunk before erecting it in your home. This will allow your tree to better absorb water, preserving its freshness.
Regardless of whether you opt for a real or artificial tree, be sure to place it at least three feet away from a heat source like a fireplace or heating vent.
Don't plan too far in advance, as keeping a fresh tree in your home for more than two weeks will cause it to dry out and become extremely flammable.
Place the tree in a sturdy water-holding stand with widespread legs, and keep the stand filled with water to prevent the tree from drying out.
Keep young children as well as curious pets at a safe distance from the tree to prevent it from accidentally knocking over.
Holiday Safety Tips for Hanging Lights 
Keep outside lights outdoors and inside lights indoors, as mixing and matching lights can create a fire hazard.
When purchasing lights, always choose products bearing the name of an independent testing lab like UL, which indicates that the lights have been tested for safety hazards.
Although we are often quick to toss them aside, following the manufacturer's instructions for installation and maintenance is the safest idea.
Before hanging last year's lights, it's important to inspect them for cracks and exposed or loose wires and dispose of them accordingly. Inspecting newly purchased decorations is also a wise idea, as lights can be damaged in transit.
When stringing lights together, use built in connectors and be careful not to join more than 200 midget lights or 50 larger lamps through one string or cord.
Before going to sleep or leaving your home or office, remember to unplug all lights and decorations, both indoors and outdoors.
To avoid overloading an outlet, don't connect more than three sets of lights to one extension cord.
When placing your lights, ensure that cords are not closed in doors or windows, run under rugs or carpeting, or stretch across a walkway and create a tripping hazard.
If decorating your office, avoid placing lights and decorations in areas that block doorways, walkways, exit signs or stairwells.
If you blow a fuse, unplug the lights from the outlet and immediately replace the blown fuse. If the replacement fuse also blows, a short circuit may be present and in this case, you should throw away the defective light string or decoration, or if newly purchased, return it for a refund.
Candle Safety During the Holiday Season
If using candles to decorate, place them in stable holders and in a location where they can't be easily knocked over.
Never use lit candles to decorate your Christmas tree.
Be sure to never leave a lit candle unattended and always extinguish burning candles before leaving a room or going to bed.
Avoid placing candles near flammable objects.
Keep burning candles out of the reach of young children and curious pets.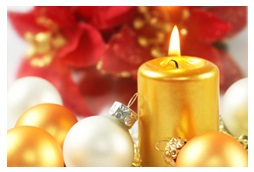 For many families, the holiday season is "the most wonderful time of the year," and keeping these holiday safety tips in mind when infusing your home or office with Christmas spirit will ensure that this special season also remains safe.