From carving pumpkins and adorning your home with spooky decorations, to dressing your kids in costumes and taking them trick-or-treating, Halloween is a fun, exciting time for the whole family, but it can also be equally dangerous. Use the following 10 Halloween safety tips to ensure that your scary celebrations remain safe.
1. Use reflective tape – Whether your child dresses as a ninja or a witch, many Halloween costumes are dark and difficult to see, especially later in the night. Adding reflective tape to dark costumes will ensure that drivers will see your child as he/she rushes from house to house.
2. Consider costume construction – When it comes to choosing a costume, it's important to keep not only warmth, but also safety in mind. If your child's costume has turned into your do-it-yourself project, be sure to construct the disguise with flame-resistant material and keep the length a few inches above your child's ankles to prevent him/her from falling while running around the neighborhood.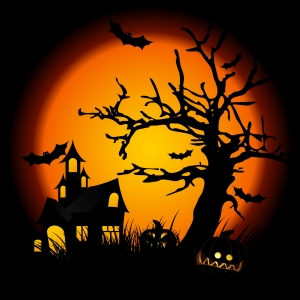 3. Keep a flashlight handy – Considering that some people plaster their lawns with skeletons and gravestones, it's smart to carry a flashlight so that if your child decides to cut across a neighbor's lawn, you'll be able to light the way and prevent him/her from tripping and falling.
4. Promote pet safety – Although your four-legged friend may seem anxious to join in the Halloween festivities, large crowds and noises scare many pets easily, so it's best to keep them inside, away from the action. From a liability standpoint, even the friendliest dog could become excited after spotting a piece of Halloween candy, and could accidentally nip a trick-or-treater in an attempt to steal the treat.
5. Remain on sidewalks – From filling an entire bag or pillowcase with candy, to staying out past their bedtimes, Halloween is a thrilling night for kids, and their excitement leaves them more likely to run into the street. Although it would be comforting to think that every driver on Halloween is a safe driver, the truth is that you can never be sure, so it's best to keep children on the sidewalk to ensure their safety.
6. Travel in packs – The bigger the group – the better. Travel in groups with neighbors and friends on well-lit streets, always being sure to avoid alleys, spaces in between cars, and private property. If someone is looking to cause trouble on Halloween night, he/she will be less likely to approach a large group of people.
7. Inspect all candy – Although your child may be anxious to begin eating goodies as soon as he/she begins collecting them, it's important to conduct a thorough inspection of the candy before allowing your child to consume it. From unwrapped treats to the rare apple or opened bag of pretzels your child receives, it's best to sort through the collection and dispose of anything suspicious.
8. Avoid fire hazards – Carving pumpkins goes hand-in-hand with Halloween, but after you place a lit candle inside of your masterpiece, be sure to place your pumpkin at a distance that will prevent children from accidentally knocking it over and potentially causing a fire. Remember to extinguish the flame once the festivities have come to an end.
9. Remove all obstacles from your property – With strangers stopping by your house, it's crucial to minimize your liability risks by ridding your property of obstacles. Whether your lawn furniture creates an obstacle, or your walkway is in need of repair, be sure to  resolve these issues before Halloween night, to prevent visitors from injuring themselves on your property.
10. Keep an outside light on after trick-or-treating hours – From candy and costumes to goblins and ghouls, we associate Halloween with many things, including vandalism and other types of crime. Whether the crime rate is actually higher or we just experience more fear on this evening, keeping your outside light on after Halloween hours have ended may help you feel safer from potential vandals or other troublemakers.
Halloween is a favorite holiday among many parents and children alike, and keeping these Halloween safety tips in mind will allow your family to have a fun, exciting, and most importantly, safe evening. Now tell us — what are you dressing up as this year?