Although last winter brought us a surprisingly small amount of snow, it's still important to keep flood risks in mind as we transition into spring, as snow melt is just one of the factors that can cause flooding. In fact, hurricanes and other storms, poor drainage systems, rapid accumulation of rainfall, broken water mains, mudslides, and new land development, especially when the construction changes natural runoff paths, can all increase flood risk, so regardless of where you reside, it's important to protect your home and assets with flood insurance. In addition to the common causes of flooding, below are 10 important things you should know about New Hampshire flood insurance:
1. Everyone lives in a flood zone. Although many people think that flood zones refer to high-risk flood areas, they are actually land areas identified by the Federal Emergency Management Agency (FEMA) described in terms of their risks of flooding. In other words, everyone lives in a flood zone; it's just a question of whether you live in a low, moderate, or high risk zone.
2. A standard NH homeowners insurance policy does not cover flood damage. This type of insurance is only available through the National Flood Insurance Program (NFIP) and will cover floods caused by storms, intense rainfall, mudslides, snowmelt, ice jams and urban development. However, it will not cover landslides even if they are caused by heavy rain. Although flood insurance is backed by the government, it is sold through private insurers, so you are still able to work with your independent insurance agent when looking to obtain this type of coverage.
3. Just one inch of water can cause thousands of dollars worth of damage to your property, and without NH flood insurance, you can be left to foot the bill. Use the interactive tool below courtesy of FloodSmart.gov to see what flood damage to your home could cost, inch by inch:
4. Although you may receive federal disaster assistance after a flood, this helps cover flood damage, not compensation for your losses, and typically comes in the form of a loan that must be paid back with interest. For instance, for a $50,000 loan with a 4% interest rate, your monthly payment would be about $240 ($2,880 a year) for 30 years. Compare that to a $100,000 flood insurance premium, which FloodSmart.gov estimates to be $400 a year ($33 a month).
5. Flood insurance is affordable, with more than 5.5 million people currently holding flood insurance policies across more than 21,000 communities in our country. According to FloodSmart.gov, if you live in a moderate-to-low risk area and are eligible for a Preferred Risk Policy, your flood insurance premium could be as low as $129 a year, including coverage for your property's contents. Click here to get a free quote today!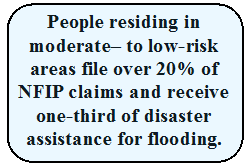 6. Coverage is easy to obtain. When looking to purchase New Hampshire flood insurance, there's only one eligibility requirement – your community must participate in the NFIP. To determine whether your community is already an NFIP partner, you can consult FEMA's Community Status Book. In New Hampshire alone, more than 200 towns and cities currently participate in the NFIP. If your community participates in the NFIP's Community Rating System (CRS), or voluntary incentive program that recognizes and encourages community floodplain management activities that exceed the minimum NFIP requirements, you can qualify for insurance premium discounts ranging from five to 45 percent, depending on your location's flood risk. However, when purchasing New Hampshire flood insurance, it's crucial to keep in mind that it takes 30 days after purchase for a policy to take effect, so it's important to purchase coverage before the floodwaters start to rise.
7. Representing the number one natural disaster in the United States, floods leave everyone financially vulnerable, even those residing in moderate- or low-risk areas. In fact, people in these areas file more than 20 percent of NFIP claims and receive one-third of disaster assistance for flooding. In 2008, the NFIP reported that one-third of all claims paid were for policies in low-risk communities, and historically, one in five claims occur in these moderate- to low-risk areas. Even though FEMA divides our country into regions based on flood risk, floods and flash floods occur in all 50 states, so investing in flood insurance is a good idea regardless of where you reside.
8. New Hampshire flood insurance can protect your business as well, offering you two types of coverage: Commercial Contents to cover your inventory, merchandise, machinery and other contents your business owns, and Commercial Building, which provides $500,000 worth of coverage for your company's building. Even if your company does not own the building, you are able to insure the value of any improvements you have made to the space. You can opt to purchase one or both types of coverage, and if the value of your business exceeds $500,000 in either area, you can buy an additional flood policy to provide up to $1 million of total coverage. The NFIP will also provide coverage for flood protection, prevention and cleanup. Sandbagging, or stacking sandbags to form a barrier that will hold back or redirect moving water, is a common and effective way to prevent flood damage to your business, and your New Hampshire flood insurance policy will also reimburse you for the costs associated with this defensive measure. In terms of cleanup, the NFIP will provide coverage for any work needed to clean and remove debris. When calculating the cost of your commercial flood insurance premium, the following factors will be taken into consideration:
The building's age, height and occupancy.
Your company's location within the building.
The location of the lowest floor in relation to the elevation requirement on the flood map (only applicable to newer buildings).
The deductible you choose and the amount of building and contents coverage.
9. Flood claims are costly. Consider the following statistics:
Over the past 10 years (2001-2010), the average annual U.S. flood losses exceeded $2.7 billion.
According to the U.S. government, the average commercial flood claim in the past 10 years has been around $33,000, and property damage due to flooding usually adds up to more than $6 billion annually.
Since 1978, the NFIP has paid over $36.9 billion for flood insurance claims and related costs (as of 12/31/10).
10. Flood insurance isn't just recommended, it can actually be legally required. If you live in a Special Flood Hazard Area (SFHA) or high-risk area and have a Federally backed mortgage, your mortgage lender requires you to have flood insurance. Buildings located in high-risk flood areas have a 26 percent chance of suffering flood damage over the course of a 30-year mortgage, and are more than twice as likely to be damaged by a flood than by a fire. For these reasons, flood insurance is required by law for buildings in high-risk flood areas as a condition of receiving a mortgage from a federally regulated or insured lender. If the property is in a moderate- or low-risk area rather than high-risk one, federal law does not require flood insurance, but a mortgage lender can still require it.
At Eaton & Berube, the protection of your home, business and other valuable assets is our priority. We are aware of the common flood insurance misconceptions, and will help you better understand the importance of this type of coverage.
In addition to Nashua, NH, where our office is located, we are pleased to provide flood insurance in Hudson, Hollis, Brookline, Litchfield, Amherst, Merrimack, Bedford, Manchester, Concord, Goffstown, Derry, Salem, Londonderry, Windham, Wilton, Mont Vernon, and all of New Hampshire. For additional information or to get a free New Hampshire flood insurance quote, please call us today at 800-660-5362 or submit our online quote form.