At Eaton & Berube, we understand how important it is to be there when you need us, so we are excited to announce that our online client portal, CSR24, is now mobile optimized. With this enhancement, you can now access your insurance policy information, obtain Certificates of Insurance and Auto ID cards, request policy changes and notify us of a claim from the convenience of your smart phone!
Although our online client portal was available on smart phones in its original format, the new interface is optimized for smaller screens and utilizes the unique features available on most smart phones, including touch screen, auto-dialing phone numbers and mapping/direction applications.
Using our online client portal, you can:
View a list of vehicles, drivers or certificate holders
Obtain a Certificate of Insurance
Receive a copy of your Auto ID Card
Request a policy change
Notify us of a claim or loss by specific location or vehicle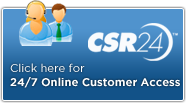 Time is your most valuable asset, and we help you make the most of it with 24 hour insurance customer service. With Eaton & Berube's Online Access you can get the information and services you need – when you need them.
To log into your CSR24 account, please visit our portal at:
https://intranet.artizan.com/default.asp?ak=8822766
Haven't signed up for CSR 24 yet? Click here to request your login now!