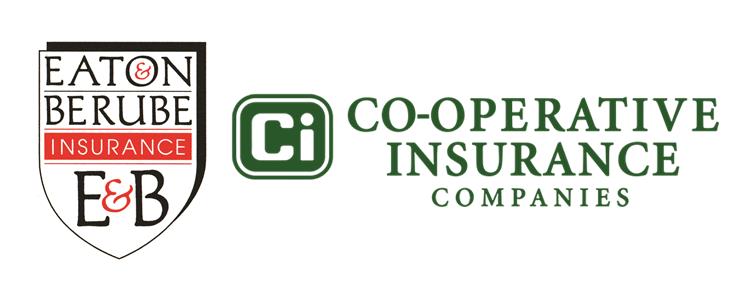 The Youth Council and Bridges: Domestic & Sexual Violence Support Services both received a $750 gift from Eaton & Berube Insurance Agency and Co-operative Insurance Companies in January.
The gifts, awarded as part of Co-op's Community Grants program, will be used to help the organizations better serve their clients. The Youth Council will use the funds to provide assessment and counseling services to upwards of 150 at-risk youth between two high schools in Nashua. The community grant award will allow the organization to purchase critical tools, like the curriculum materials and workbooks necessary to serve these students that are falling through the cracks due to issues around substance misuse, anxiety, conflicts with peers, parents and/or partners, and grief. By providing this support, The Youth Council will be able to reduce the number of students that use alcohol and other drugs to self-medicate around anxiety, stress and grief, increase the likelihood that students will stay in school – thus reducing the dropout rate – and connect the youth and his/her parents with supportive resources to assist with their difficulties.
At Bridges, the community grant award will help the organization serve thousands of clients and children struggling with sexual and/or domestic violence and stalking. Individuals who have been affected by domestic and/or sexual violence, and are seeking support, will receive assistance free of charge from Bridges. Last year the organization assisted 2,376 people, many of whom were under the age of 12. These funds will allow Bridges to continue to provide 24-hour support both in person and on the organization's support line, whose advocates offer emotional support, advocacy, information and referrals to survivors of domestic violence, sexual abuse, child sexual abuse, sexual harassment, and stalking.
"The Youth Council and Bridges both do remarkable work on behalf of the populations they serve" said Marc Berube, President of Eaton & Berube Insurance Agency. "We're grateful for the life-changing resources they provide to members of our community in need, and we are proud to support their efforts."
Co-operative Insurance Companies' Community Grants Program was established in 2004 to assist with community projects across Vermont and New Hampshire. Through this program, Co-op partners with its agents and directors to provide funds for capital campaigns and operational support throughout the two states.
"Groups like The Youth Council and Bridges are meeting needs in the same communities that Co-op serves," said Brad Fortier, Co-op's Executive Vice President. "We think it's important to do our part as neighbors to help them out, and this grant program is one more way we can do that."
The Youth Council and Bridges represent two of 10 organizations to receive a Community Grant from Co-operative Insurance Companies in 2017.
About The Youth Council
Since 1974, The Youth Council has grown to serve as a first point-of-contact for greater Nashua, New Hampshire families struggling with acting out youth, parenting difficulties, alcohol and drug problems, and lack of school success. With the help of a dedicated board of directors and talented staff, the Youth Council operates on its mission to build strong families free from abuse, addiction, and court involvement. The organization offers best-practice programs to 700 greater Nashua children and teens each year, striving to strengthen families, improve risky decisions and reduce involvement with the juvenile justice system.
About Bridges: Domestic & Sexual Violence Support Services
Since 1977, Bridges: Domestic & Sexual Violence Support Services has been dedicated to helping victims and survivors of domestic and sexual violence in Southern New Hampshire communities. Operating on its mission to cultivate communities free from violence as it supports victims and survivors of sexual assault, domestic violence, and stalking, Bridges assists individuals who need to talk, need information, or feel alone, afraid, or hopeless. The organization is committed to eliminating domestic and sexual violence, and providing a safe and supportive environment for victims and survivors.
About Co-operative Insurance Companies
Co-operative Insurance Companies has been meeting property and casualty insurance needs since 1915, offering farm, home, auto, business, and other insurance to people in Vermont and New Hampshire. It is owned by its members and committed to protecting them with fast and fair claims service, loss prevention expertise, and local operations. The company has headquarters in Middlebury, Vermont, with regional claims offices and more than 100 agency locations across Vermont and New Hampshire.
About Eaton & Berube Insurance Agency
Eaton & Berube Insurance Agency is a local, family-owned independent insurance agency in Nashua, N.H. The agency has been serving the insurance needs of New Hampshire families and businesses for 75 years, with a strong focus on community support and involvement. Eaton & Berube offers a comprehensive line of personal and commercial insurance products, including home, auto, renters, umbrella, general liability, workers' compensation, professional liability, medical malpractice, and equine/farm insurance.
Save
Save